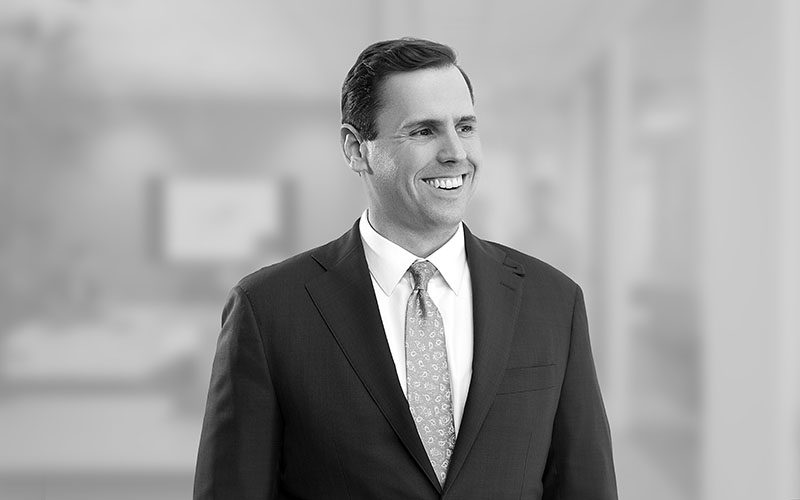 Partner
Direct: (310) 893-5157
Fax: (310) 893-5195
pat@hawxhurstllp.com
---
Profile
Patrick's practice focuses on complex civil litigation, including employment, consumer protection, business, and class action litigation. He has successfully litigated cases in state and federal courts involving a variety of industries, including healthcare, hospitality, retail, transportation, food services, green energy, technology, and construction.
The Firm's clients appreciate Patrick's candor and his dedication to understanding and meeting their litigation needs. He has contributed to many of the firm's victories, including several of its recent wins in high-stakes consumer fraud class actions. Patrick co-authored the summary judgment brief that resulted in a complete defense victory in a $3 billion proposed class action and helped obtain dismissal of another proposed class action after discovery showed that the plaintiff's claims were meritless.
Patrick earned his Juris Doctorate degree from Pepperdine University School of Law, where he was a member of the school trial team and an executive editor for the Pepperdine Dispute Resolution Law Journal. During law school, Patrick clerked for Presiding Justice Tricia A. Bigelow of the California Court of Appeal. Patrick earned a Bachelor of Arts with a Major in Business Administration from Principia College, where he was elected student body treasurer. Patrick lives in West Los Angeles with his wife and daughter.
---
Representative Engagements
Patrick was a member of the Firm's team that successfully represented the Firm's client—the leading manufacturer and distributor of energy shots—in a multidistrict litigation. The plaintiffs alleged that they were misled by representations on the client's product label. The Firm won summary judgment by showing that the plaintiffs' theory of the case failed the "reasonable consumer" test under several states' consumer protection statutes.

Patrick helped obtain dismissal of a proposed class action brought against the Firms' client. In that case, the plaintiff alleged the client's product was mislabeled and misled consumers into believing that those products were "all natural." Patrick helped devise and implement a litigation strategy that resulted in the plaintiff making several key admissions during her deposition. The Firm's team also marshalled expert opinion testimony that refuted several of plaintiff's allegations concerning the composition of the products at issue. Following disclosure of these opinions and faced with her own testimony, the plaintiff voluntarily dismissed with prejudice the entire case.

Patrick helped obtain a protective order that prevented improper discovery of trade secrets belonging to the Firm's clients, a pair of renewable energy companies. In that matter, an out of state litigant subpoenaed the clients' strategic business partner seeking documents that contained the clients' confidential information and trade secrets. Patrick prepared and filed an emergency motion that resulted in the court entering an order to protect the clients' interests.

Patrick helped obtain a favorable settlement in a series of related cases for the Firm's client, a national auto collision repair center, in connection with pandemic-related policy changes. The plaintiff employees filed suit over COVID-19 policies that temporarily impacted their compensation. They alleged that the announced policy changes violated a multitude of state employment laws and threatened to bring multiple additional actions in several jurisdictions unless they were paid hundreds of thousands of dollars in purported damages, plus more in attorneys' fees. Patrick co-authored a plenary motion to dismiss that showed why each of the purported claims failed. While that motion was pending, plaintiffs agreed to settle their claims for less than nuisance value, allowing the Firm's client to focus 100 percent on helping its customers.

Patrick helped obtain a favorable outcome at mediation for a medical service provider in an employment lawsuit. The plaintiff—a licensed physician—claimed he was owed a percentage of millions of dollars in fees for work performed at an out-patient clinic. At mediation, the Firm's trial team demonstrated that plaintiff's interpretation of his employment agreement would have led to "absurd" economic results, rendering his interpretation unreasonable. The case resolved informally for a small fraction of plaintiff's demand.

Patrick successfully second-chaired a trial that resulted in a complete victory for his clients, a real estate development company and its board of directors. The plaintiff alleged that Patrick's clients had caused water damage to the plaintiff's collection of computer servers. After a two-week trial, the jury returned a complete defense verdict and awarded damages to Patrick's clients on their counterclaims.
In addition to his other matters, Pat is a member of the Firm trial team currently defending a major U.S. chip manufacturer in an international dispute set for trial in California state court later this year. Pat is also a member of the Firm trial team prosecuting fraud claims concerning a famous painting by Andy Warhol.
---
Education
Pepperdine University School of Law (J.D.)
Principia College (B.A.)